The best meeting room platform with USB-C
Transform your meetings with Taurus: the easy-to-use meeting room platform that provides unparalleled audiovisual experience with USB-C.
satisfied corporate customers
Taurus UCX solutions sold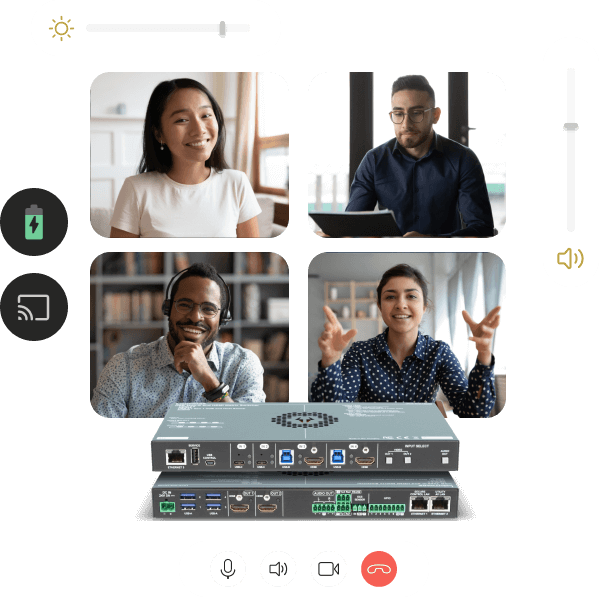 60 minutes = 51 minutes? Not any more! 
According to industry data, up to 15% of meeting time is wasted due to inefficient equipment and technology.* That's precious time and productivity - lost. But with the right tool, you can make every meeting count. 

Our meeting room platform ensures crystal-clear audio and video quality, allowing for seamless, dynamic communication and collaboration, plus charging with only one USB-C plug. And with the built-in automation, any employee will be running their meetings like the pros in our favorite movies.

*Based on an in-depth research.
Ready to revolutionize meetings?
If we count 260 working days in a year and 8 hours of meetings per day, then a 15% technological difficulty causes a net loss of 300 hours per meeting room.
Standard meeting room platforms

Lightware Taurus UCX meeting room platform
Tired of complicated meeting room setups?
Lightware –
Zero latency or loss of quality since 1998
Our European team of 150+ engineers, system designers, integrators, and AV experts have been operating successfully for over 25 years They focus on delivering intuitive technology for AV users and professionals through pioneering devices that invisibly support their work styles. This focus resulted in the unique Taurus UCX switcher developed in 2021.
It's everything your partners need in one black box.
TAURUS UCX: The All-in-One Meeting Room Solution

Successful meetings with private laptops: 
Our versatile switcher supports BYOD & BYOM (Bring Your Own Device, Bring Your Own Meeting), so anyone can join a meeting with ease and enjoy excellent sound and image quality.

Fast charging
With wired internet, USB-C power and speed, everyone will always stay in charge when presenting and collaborating with others.

In accordance with the room's assets:
With the advanced automation capabilities, anyone can control the meeting room equipment and take full advantage of the room's automation opportunities. 

Future-proof room automation
With the advanced automation capabilities, anyone can control the meeting room equipment and take full advantage of the room's automation opportunities. 


Real Stories from Real Customers
Get inspired by these stories.

The quality is amazing, and the interface is user-friendly. Even with the patchwork approach, the Lightware switchers still perform as expected and provide the convenience and flexibility the Napier community needs, a testament to their design.
Ben Taylor
Head of AV for Edinburgh Napier University

We selected Taurus UCX because of the simplicity of installation and user experience. Taurus UCX streamlines USB-C to HDMI connectivity. It's incredibly helpful for BYOM applications. Additionally, an important feature for the end user is Taurus UCX's charging functionality. It charges the device during BYOM.
Izzi Demara
Marketing Coordinator for RoomReady

Lightware solved a problem that I didn't know I had before I had it. I solve end users' problems, and I like it when other people do that for me. Most importantly, the end user does not know about the technology behind the experience, but it all works the same, no matter what they're connecting.
Jon Hamilton
Audiovisual Manager for Emory University School of Medicine
Award-winning meeting room platform at your service
Recognized for its robustness and reliability, Lightware Taurus UCX has won multiple industry awards, including "Best of Show" at ISE 2022.

Ready to ship: Lightware has meeting rooms covered
No more waiting for product lead times or vendor back orders. At Lightware, our products are immediately available and ready to ship, no matter the size of your order.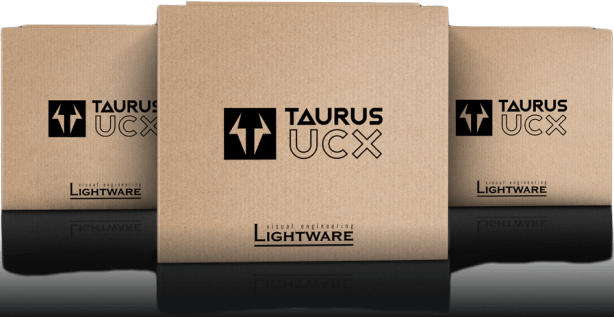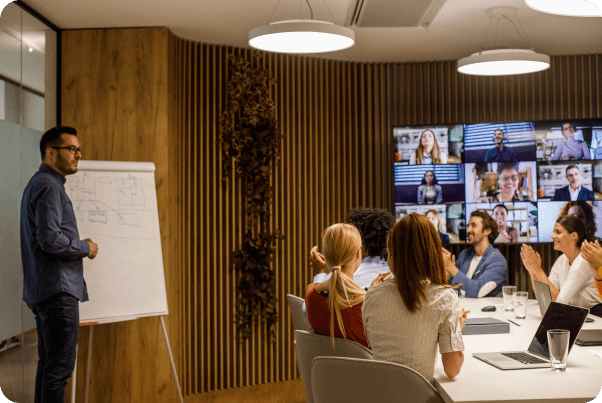 For our seasonal promotion program, Lightware offers expanded access to TAURUS by supplying selected pilot meeting rooms with TAURUS UCX. Each grant award includes installation along with complete personnel training.

Fill in your application for TAURUS UCX before November 30, 2022. Drawing will be held on_______________ with the immediate announcement of the three winners.